Products You May Like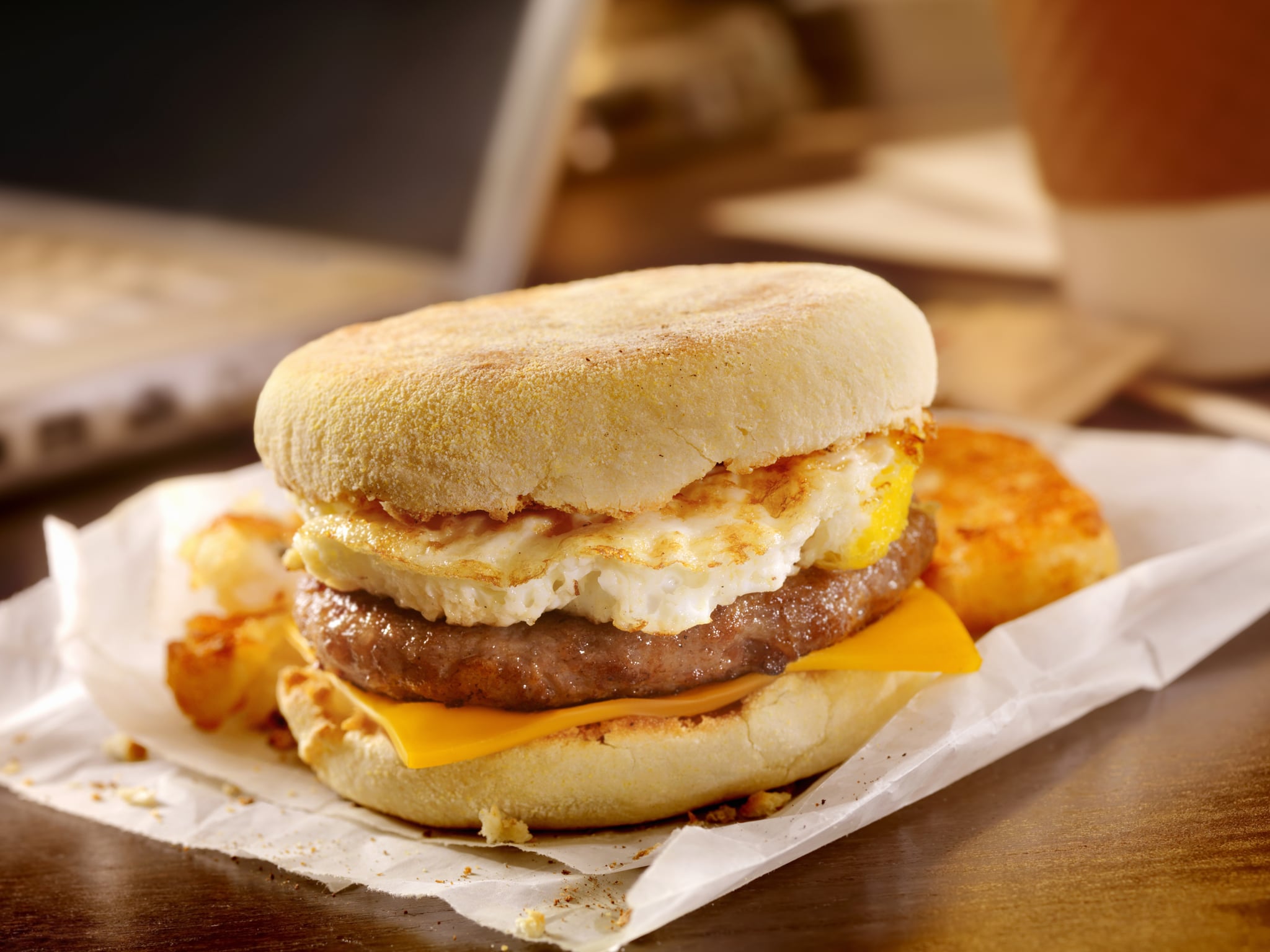 Are you a fan of McDonald's all-day breakfast? Do you love their Sausage McMuffins and Hash Browns, or do you crave their sweeter options like Fruit & Maple Oatmeal or Hotcakes? Whatever you're in the mood for, if you're also mindful about your calorie, fat, carb, and protein intake, or you're trying to eat keto, we've put the nutritional info for McDonald's breakfast menu items all in one place. Aside from the straight-up calorie and carb amounts, find out which options are the healthiest, and which are low-carb or good for keto.
The chart below of McDonald's breakfast nutrition allows you to compare breakfast options. The info is for the menu item as is, without any changes, but you can customize your order depending on your dietary needs. See the details below for calorie amounts of certain ingredients so you can add or remove as you please. Maybe you want fewer calories so you can omit the butter on the hotcakes. Or maybe you want fewer carbs so you can omit the English muffin on your Sausage McMuffin With Egg. The McDonald's app allows you to customize your order. Just be mindful that menu items and info may differ based on location.
McDondald's McMuffin Calories
There are 310 calories in a McDondald's Egg McMuffin, which is made with egg, Canadian bacon, and a slice of American cheese. If you prefer sausage, a Sausage McMuffin, made with a sausage patty and American cheese is 400 calories. If you get both eggs and sausage, a Sausage McMuffin With Egg is 480 calories. They all contain salted butter (20 calories) and a slice of American cheese (50 calories), so you can cut calories by omitting one or both.
McDondald's Hash Browns Calories
One Hash Brown patty is 140 calories. Note that the ingredients include milk, so these are not a good choice for those avoiding dairy. They also contain natural beef flavor, so they're not OK for vegetarians or vegans.
Healthiest Breakfast Options at McDondald's
It depends on how you define healthy: If you're watching your calorie intake, the lowest-calorie breakfast options at McDonald's include the Hash Browns (140 calories), and the Egg McMuffin or Sausage Burrito (both 310 calories each). If you're watching your fat intake, choose the Fruit & Maple Oatmeal (4.5 grams of fat) or the Egg McMuffin (13 grams of fat). If sodium is your concern, the Hotcakes, Hash Browns, and Fruit & Maple Oatmeal have under 600 milligrams.
Low-Carb and Keto Breakfast Options at McDondald's
For those looking to limit their carbs, you want to skip the Hash Browns, Fruit & Maple Oatmeal, and Hot Cakes. You can order any of the other menu items including the Egg McMuffin, Sausage McMuffin, Sausage McMuffin With Egg, Bacon, Egg, & Cheese Biscuit, or the McGriddles — just omit the English muffin, biscuit, or griddle cakes to lower the carb count.
| Breakfast Item | Calories | Fat (g) | Cholesterol (mg) | Carbs (g) | Sodium (mg) | Protein (g) |
| --- | --- | --- | --- | --- | --- | --- |
| Hash Browns | 140 | 8 | 0 | 18 | 310 | 2 |
| Fruit & Maple Oatmeal | 320 | 4.5 | 5 | 64 | 150 | 6 |
| Sausage Burrito | 310 | 17 | 170 | 25 | 800 | 13 |
| Sausage McMuffin | 400 | 26 | 55 | 26 | 760 | 14 |
| Sausage McMuffin With Egg | 480 | 31 | 280 | 30 | 830 | 20 |
| Sausage Biscuit | 460 | 30 | 40 | 36 | 1,050 | 11 |
| Sausage Biscuit With Egg | 530 | 34 | 205 | 38 | 1,140 | 17 |
| Egg McMuffin | 310 | 13 | 250 | 30 | 770 | 17 |
| Bacon, Egg & Cheese Biscuit | 450 | 26 | 215 | 39 | 1,330 | 17 |
| Sausage McGriddles | 430 | 24 | 35 | 41 | 990 | 11 |
| Sausage, Egg & Cheese McGriddles | 550 | 33 | 235 | 44 | 1,290 | 19 |
| Bacon, Egg & Cheese McGriddles | 430 | 21 | 215 | 44 | 1,230 | 17 |
| Hotcakes (with butter and syrup, comes with 3 hotcakes) | 580 | 15 | 45 | 101 | 550 | 9 |
| Hotcakes With Sausage (with butter and syrup, comes with 3 hotcakes and 1 sausage patty) | 770 | 33 | 75 | 102 | 830 | 15 |